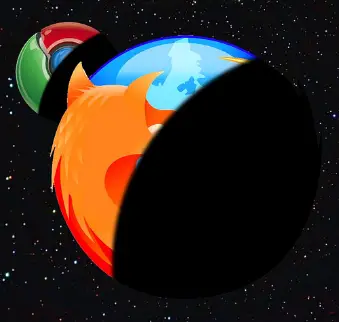 In today's digital world, the wide availability of high speed internet requires the use of an equally adequate browser. Modern browsers, such as Mozilla Firefox and Google Chrome, are built to take advantage of the latest web technology and maximize its full potential. The following compares the features and capabilities of both browsers.
Mozilla Firefox
Firefox version 5, boasts more speed and better use of system memory. It is quicker to start up and stays stable after running for a while, a big improvement over version 4. When tested against Chrome and Opera for start-up time, it beat both by a large margin. Firefox also consumed only 225MB memory when running 10 tabs with resource intensive features.
Firefox 5 looks basically the same as version 4, which brought better support for the Aero theme in Windows Vista and 7.
Security was also beefed up in Firefox by the addition of Do Not Track, a feature that prevents web sites from tracking a visitor. There is some debate as to how useful this feature is, however, it is sure to appeal to security conscious types.
Web standards such as HTML5, SMIL, canvas and XHR have improved support in Firefox 5. The browser also has a web based building environment called Firefox Add-On Builder which is a very attractive feature for the development crowd. Currently, Firefox 5 has the top support of open web standards.
Firefox 6 was silently released yesterday as part of its new "rapid release" schedule. Major new features are minimal. But that's not to say Firefox 6 brings nothing to us. In fact, a look at its complete change-log reveals a total of 1,300 changes and fixes!
Firefox 6 seems slightly faster in performance than its preceding versions.
One of the changes that users may notice include URL highlighting, which, like Internet Explorer 9 and Google Chrome, shows the domain name in darker font than the rest of a page's address.
There is also improved security features and tweaks, such as Advanced site security block and site-specific permissions. "A new permissions manager, accessible by typing 'about:permissions' in the address bar, lets users set site-specific permissions to control acceptance of cookies, location sharing, pop-ups, and password and data storage!.
Below is the list of changes in Firefox 6:
The address bar now highlights the domain of the website you're visiting
Streamlined the look of the site identity block
Added support for the latest draft version of WebSockets with a prefixed API
Added support for EventSource / server-sent events
Added support for window.matchMedia
Added Scratchpad, an interactive JavaScript prototyping environment
Added a new Web Developer menu item and moved development-related items into it
Improved usability of the Web Console
Improved the discover-ability of Firefox Sync
Reduced browser startup time when using Panorama
Fixed several stability issues
Fixed several security issues
Click here to see the complete list of changes in Firefox 6. There is major update coming from firefox due in about 6 weeks, so stayed tuned for that.
Firefox is available for Windows, Mac and Linux. It also has a clone called Palemoon, which is optimized for Windows.
Google Chrome
The Chrome browser, now in its 13th incarnation, continues to wow web professionals and casual surfers alike. It scores top marks in security and performance, and many users appreciate its minimalist interface. Chrome was the first and is still the only browser to feature the Omnibox, where web addresses and search strings are typed in the same place.
Chrome is easy to install and is up and running in under a minute, in most cases. It is zippy from a cold start and maintains stability with multiple tabs through tab process isolation. It also has a Flash player built in and native support for PDF.
New in Chrome 13 is Chrome Instant, which loads either a web page from the user's history or shows search results when a web address is typed. The page will be fully loaded even before the address is completed. This is a major factor in Chrome's overall speed and efficiency.
Chrome's tab management is impressive as well. The new tab page features thumbnails of most visited pages and web apps. Tabs themselves are managed so that when one crashes, it doesn't bring down the entire browser. This alone can increase productivity for most users, especially on high speed internet.
Chrome is available for Windows, Mac and Linux. Chromium is the source code and is available for anyone who wishes to build on it.
Mozilla Firefox and Google Chrome are both excellent browsers that support the modern web well. There is no clear winner in this browser war; it all comes down to the needs of the user. Chrome may have a bit of an advantage for developers with its great support of HTML5, while Firefox may appeal to those who wish to have a better and more secure browsing experience. It is up to the user to decide.
Chrome vs Firefox, Your Thoughts?
Most people would have both on their systems, and that surely would be a good idea! So which one do you prefer? whats your reasoning behind using it? Sure, We would love to hear from you 🙂
Note: Photo courtesy of brucknerite via FlickR Creative Commons.